Cristina Verger is a sought after New York event planner and producer.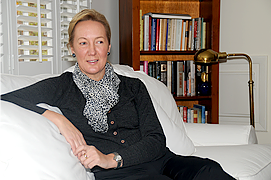 Respected in the event planning industry in the US and Internationally, Cristina Verger, nee' Maria-Cristina Gjomarkaj, is an event planner well known for planning spectacular events and weddings for her clients both in the US and across the globe.
Whether it's a destination wedding on a tropical island; a surprise 50th birthday celebration in a swanky NYC hotel; a two-weekend wedding celebration which spans two continents; an intimate dinner for 10 overlooking the Hudson; "Festa della Repubblica" for 300 people in Honduras at the residence of the Italian Ambassador; an intimate three-day wedding celebration in Zihuatanejo, Mexico; or a celebrity golf tournament in Westchester, what sets Cristina Verger apart from other event planners is her unique approach to event planning, design, and production. Her personal background combined with her professional know-how are united to create unforgettable events for her clients.
Born in Rome, Cristina Verger was educated in both Italy and New York City. From her family of hoteliers she has learned the art of gracious hospitality early on, enhanced by the eternal city's culture and endless charm.
About the Company: Cristina Verger Event Planning & Production was founded on the experience, ethics and philosophies of respected New York event planner Cristina Verger.
What makes Cristina Verger one of the most sought after event planners is her style, vision, and expertise. Cristina is a favorite New York event planner among businesses and individuals throughout the US and Internationally. With 25 years of ground-breaking milestones in event planning; collaborations with NYC luxury properties and international venues, she is a well rounded event planner and producer. Cristina's experience as Director of Catering and sales for prestigeus New York City properties which include the famous Windows on the World restaurant located at the top of the World Trade Center, Helmsley Hotel Group and the Harvard Club of NYC, allowed her the opportunity to gain experience planning events both as an "on property" manager and later as the owner of her own event planning company as an off site event planner. Cristina has both the connections, and the hard-earned experience to ensure that her clients get the best.
Cristina Verger's background spans two continents, thus enabling her to offer her clients interested in destination events and weddings in Italy access to Italian and European industry professionals not available to other planners. Through her satellite offices in Milan and Rome, she is able to create the perfect "bridge" for US clients desiring to plan their events in Italy.
For some of her client's raving reviews, please visit the Press & Testimonals page.